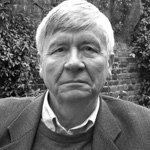 Piers Paul Read is a best-selling novelist, writer, and playright with numerous popular books including Alive: The Story of the Andes Survivors, Ablaze: The Story of Chernobyl, Alec Guinness: The Authorised Biography, The Templars, Monk Dawson, A Patriot in Berlin, Alice in Exile, and Hell and Other Destinations.

Read is a Fellow of the Royal Society of Literature and a member of the Council of the Society of Authors, as well as an officer in the Catholic Writers' Guild of England and Wales. He received his BA and MA from Cambridge, and was awarded Ford and Harkness fellowships early in his career. His work has included dramatic non-fiction, novels, and screenplays, often focusing a journalistic eye on stories of tragedy and redemption. He has also written a number of television plays, and several of his novels have been filmed for cinema and television. He lives in London.
The Death of a Pope is a powerful novel by the acclaimed British writer Piers Paul Read. Juan Uriarte, a handsome and outspoken Spanish ex-priest, seems to be the model of nonviolence and compassion for the poor and downtrodden. So why is he on trial, accused of terrorist activities? His… Read more »
Blog

Posts from this author at the Novel Thoughts blog.
See all of Piers Paul Read's blog posts...